It's only been one year since the inaugural show of Linework NW, but they are back this April with not one, but two, impressive lineups over a two-day period. That's right, a two-day shows with a different roster of special guests and exhibitors on each day. You'll be able to double down on your dollar at this FREE show by coming back for new goodies and faces the next day. But Fantagraphics will be there both days, hosting debut books and special signings all weekend long at the beautiful Norse Hall.
Debuts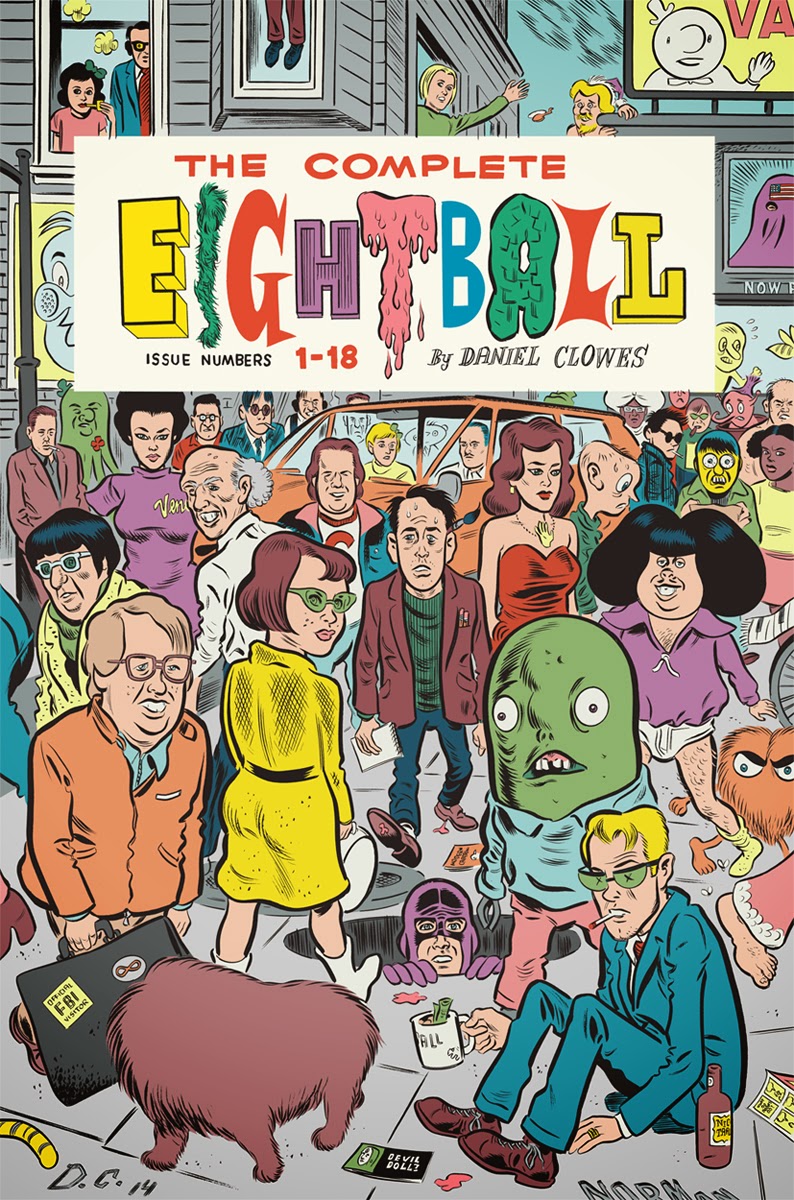 The Complete Eightball by Daniel Clowes Before he rose to fame as the author of the bestselling graphic novels Ghost World, David Boring, Ice Haven, and The Death Ray, Daniel Clowes made his name from 1989 to 1997 by producing 18 issues of the beloved comic book series Eightball, which is still widely considered to be one of the greatest and most influential comic book titles of all time. Now, for the 25th Anniversary of Eightball, Fantagraphics is collecting these long out-of-print issues in a slipcased set of two hardcover volumes, reproducing each issue in facsimile form, exactly as they were originally published. Out in stores May 2015 $119.99

Black River by Josh Simmons Josh Simmons returns with his first full-length graphic novel since 2007's acclaimed House. A group of women, one man and two dogs are making their way through a post-apocalyptic world in search of a city that supposedly still has electricity and some sort of civilization. Along the way, they go to a comedy club, take a drug called Gumdrop, and encounter gangs of men who are fools, lunatics, or murderous sadists. In other words, all manner of terrors. Out in Stores May 2015 $18.99

The Kurdles by Robert Goodin In the spirit of Herge's Tintin or Carl Barks' Uncle Scrooge, The Kurdles is an all-ages comic spiced up with a teaspoon of strange. Sally is a teddy bear who gets separated from her owner. Desperate to find her way home, she stumbles upon Kurdleton, home a to most peculiar group of characters in the midst of their own crisis: their forest hosue is trying to run away! Printed in an oversized format to showcase Goodin's stunning, hand-painted artwork, The Kurdles will capture the imagination of both parents and children. Out in Stores late April 2015 $24.99

Harvey Kurtzman: The Man Who Created MAD and Revolutionized Humor in America by Bill Schelly Kurtzman's groundwork as the original editor, artist, and sole writer of MAD provided the foundation for one of the greatest publishing successes of the 20th century. But how did Kurtzman invent MAD, and why did he leave it shortly after is burst nova-like onto the American scene? Bill Schelly's heavily researched biography finally and fully answers these questions for the first time. Through fresh interviews with Kurtzman's colleagues, friends and family, including Hugh Hefner, Al Feldstein, R. Crumb, Jack Davis, and many others, this book tells the true story of one of the 20th century's greatest humorists. Out in Stores late April 2015 $34.99

Angry Youth Comix by Johnny Ryan Now, for the first time, all fourteen issues of Ryan's career-defining comic book series Angry Youth Comix (2000-2008) are collected in one place. All the comics, the covers, and even the contentious letters pages, in one toilet-ready brick shithouse, taking full advantage of the medium's absurdist potential for maximum laughs. Out in Stores April 2015 $49.99
Signing Schedule
Fantagraphics Booth 12 & 13
Saturday
1-2 & 4-5 Josh Simmons
Sunday
1-3 & 5-7 Daniel Clowes
Panels
Sunday
12:30 - Collectives and Collaborations with Fanta staffer Mark Palm, and former intern Tom Van Deusen
3:30 - Spotlight on Daniel Clowes moderated by Tom Spurgeon
Events
If you can hang tough and want to turn this whole comics fest into a comics party week, there are some before and after events to add to your calendar. But there's about one party for every five exhibitors, so get the full list here
First, a kick off art show and reception at Hellion Gallery:

Get details on their Facebook invite
Don't forget the closing party! Where you can get food and drinks to recharge for work the next morning. Details here
Norse Hall is a beautiful, historic location that amplifies the wonderful people and creations that will be joining the Linework lineup this year. We can't wait to be there again!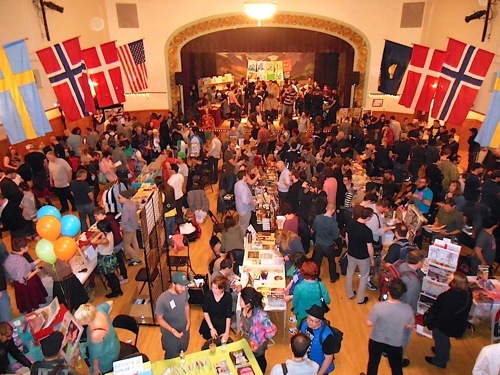 (Photo by David Scroggy)
Norse Hall
111 NE 11th Ave
Portland, OR